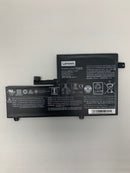 Description
Call our sales team if you have any further questions - 800-542-9703
NEW PRICING
This battery is now on sale. Call Today.....
Part Number: 5B10K88048
Product Description: Lenovo Chromebook N22-80SF Genuine Battery
Manufacture: Lenovo
Product Type: Battery
Battery Specs: 11.1V 45Wh 3980mAh
Model Number: L5M3PB11
Battery is used in Models:
Lenovo Chromebook N22
Warranty: 90 Day Warranty
Kam Com Technologies, Inc. accepts School Purchase Orders.
Payment & Security
Your payment information is processed securely. We do not store credit card details nor have access to your credit card information.